METALS
Trade in Precious Metals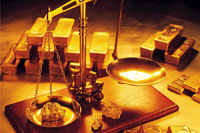 Trade in precious metals under spot conditions allows buying and selling of gold (XAU/USD) and silver (XAG/USD) against US dollars and other currencies to gain a speculative advantage. To trade in precious metals, it is enough to open a real account in MFX Trading Station. The account opened will enable you to make transactions for both currency pairs, precious metals and CFD (exchange indices) from one account only.
The factors that make the Forex-based trade in gold and silver necessary may be the following:
The necessity of asset diversification when establishing an investment portfolio;
The possibility of hedging the trading positions in order to be protected from fluctuations that may occur in the market due to economic, political and social reasons;
Ability to trade with leverage
Exercise short selling to profit from descending prices of precious metals
The spot prices for gold and silver indicate the value per ounce in US dollars and the trade is carried out in lots. The typical spot price is as follows: 1580.30/80. This means that a trader can buy one lot of gold for $1580.80 and sell for $1580.30. The difference between the buying and selling prices (0.50 US dollars) is the amount paid by the trader for this transaction and is called a spread.

The minimum amount of such transactions in MFX Trading Station is the smallest lot possible, i.e. 0,01 (micro lot). At one lot buying (selling), each change of the last total figure of the spot price is equal to $1.
Should you wish to know Forex-based trading in precious metals in all its details, please open a training account with no risk and start working.